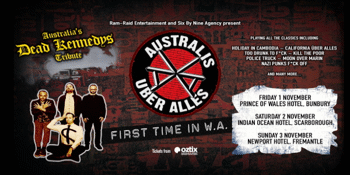 Six By Nine Agency presents
AUSTRALIS ÜBER ALLES - Australia's Dead Kennedys Tribute
with special guests – BENNY MAYHEM BAND – TWO FOR FLINCHING – BLOKE FLAG – THE WOLFBATS
The Newport Hotel (Fremantle, WA)
Sunday, 3 November 2019 5:00 pm
BUZZBOMB - PUNK ROCK - SUNDAY SESH
with
AUSTRALIS ÜBER ALLES
Australia's Dead Kennedys Tribute
with special guests - BENNY MAYHEM BAND - TWO FOR FLINCHING - BLOKE FLAG (The Aussie Tribute to Black Flag) & THE WOLFBATS

AUSTRALIS ÜBER ALLES (Australia's Dead Kennedys Tribute Band) have been blowing crowds away across the country with their incendiary live shows and their uncannily faithful recreation of the classic DKs sound. Close your eyes and you'll swear it's 1984.. knock, knock at your front door.

Performing Dead Kennedys classics including HOLIDAY IN CAMBODIA - CALIFORNIA ÜBER ALLES - TOO DRUNK TO F*CK - KILL THE POOR - POLICE TRUCK - MOON OVER MARIN - NAZI PUNKS F*CK OFF and many more!

With a laser-focus on replicating the exact sound of DKs in their prime, Australis Uber Alles bring the party and the fury in equal measure. Drawing from early DK's catchy hits through to their more experimental excursions, and with a wild and unpredictable frontman channelling the very essence of a young acerbic Jello Biafra, AUSTRALIS ÜBER ALLES will bring you the closest experience to a classic-era Dead Kennedys show you are likely to see in this lifetime.